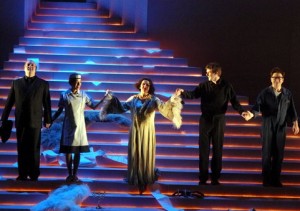 ● Independent Opera at Sadler's Wells, Simplicius Simplicissimus
11-19 November 2016
The Observer, Stephen Pritchard, 20 November 2016
Timothy Redmond conducted the Britten Sinfonia with admirable commitment to Hartmann's bracing score.
Opera Today, Clare Seymour, 19 November 2016
Hartmann's score was incisively articulated by players from the Britten Sinfonia…Conductor Timothy Redmond did not let one detail escape…The probing string counterpoint which accompanies the Hermit's oration becomes a mis-harmonised Bach chorale, which Redmond crafted – as the pitch rose, repetitive fluttering motifs were introduced and a powerful accelerando took hold – into a stirring declaration.
The Spectator, Michael Tanner, 19 November 2016
Under the convincing baton of Timothy Redmond, and in David Pountney's translation, one can't imagine the work being better served…
The New York Times, Michael White, 17 November 2016
All this was handsomely realized by the Britten Sinfonia, moonlighting as the pit-band at Sadler's Wells… conducted by the new-music specialist Timothy Redmond…
What's On Stage, Mark Valencia, 16 November 2016
There is so much that's good about a performance whose scale and ambition make the Lilian Baylis Studio burst at the seams, from David Pountney's fine vernacular translation through the scorching performance of Stephanie Corley in the title role to the virtuosic playing of the Britten Sinfonia under Timothy Redmond. The latter make a powerful case from Hartmann's chamber score, projecting it with a swashbuckling bravura…
The Independent, Alexandra Coghlan, 15 November 2016 ✭✭✭✭
The Britten Sinfonia are the luxury band, and under conductor Timothy Redmond give rhetorical voice to this violent, sardonic score, full of musical wit and rage.
The Guardian, Tim Ashley, 15 November 2016 ✭✭✭✭
Timothy Redmond conducts the Britten Sinfonia with considerable force
The artsdesk, Helen Wallace, 15 November 2016
Timothy Redmond's galvanising authority…
The Stage, George Hall, 14 November 2016
…skillfully performed here by the Britten Sinfonia under the baton of Timothy Redmond.
The Times, Richard Morrison, 14 November 2016 ✭✭✭✭✭
Timothy Redmond conducts securely, and the Britten Sinfonia delivers Hartmann's fiendishly angular lines mostly with panache.
Bachtrack, Matthew Rye, 12 November 2016 ✭✭✭✭✭
Hartmann's score was vividly brought to life by the musicians of the Britten Sinfonia under the direction of Timothy Redmond.
Planet Hugill, Robert Hugill, 12 November 2016 ✭✭✭✭
Under Timothy Redmond the Britten Sinfonia really relished Hartmann's music and it was the composer's experience as a symphonist which really came out so that the orchestral writing took on a vivid life of its own.
Classicalsource, Richard Whitehouse, 11 November 2016
…the assured playing of the Britten Sinfonia, capably conducted by Timothy Redmond…
● Guildhall School, Silk Street Theatre, Ariane & Alexandre Bis
31 May-6 June 2016
Classicalsource, Colin Clarke, 4 June 2016
It was this sense of being completely on the ball that reflected the performance as a whole, thanks to the conducting of Timothy Redmond. The orchestra, on fine form, followed him with exactitude; the score was crisp and frequently delightful…
A triumph for GSMD; and a real privilege to experience these fabulous pieces.
Opera Today, Clare Seymour, 2 June 2016
The score [of Ariane] recalls Stravinsky in chirpy neo-baroque mode — Pulcinella, premiered at the Paris Opéra in 1920 comes strongly to mind — but Martinů also punctuates Ariane with three fairly lengthy Sinfonias, à la Monteverdi's Orfeo, and the GSMD Orchestra, conducted by Timothy Redmond, played them with crisp punchiness, the rhythms sharply defined and the woodwind colours striking. [In Alexandre Bis] Redmond summoned plenty of fizz from the pit too, though it was the strings who shone this time…the instrumental playing during the evening was some of the best I have heard from the young GSMD players and would be a credit to any professional ensemble.
The Times, Neil Fisher, 2 June 2016
…the fascinating score, well conducted by Timothy Redmond…
Boulezian, Mark Berry, 2 June 2016
Here, as in Ariane, the orchestra proved remarkably adept, under Timothy Redmond's baton, at tracing and communicating the changing moods of the score.
Bachtrack, Dominic Lowe, 1 June 2016
The orchestra under Timothy Redmond were well-paced and the woodwind in particular should be singled out for the quality and colour of their playing.
The Arts Desk, David Nice, 1 June 2016
Timothy Redmond makes the orchestra sound as professional and idiomatic as you could wish; chamber ensemble strings make some ravishing sounds…what a delight to hear the idiom so easily done.
● Independent Opera at Sadler's Wells, Biedermann and the Arsonists
14-19 November 2015
The Financial Times, Hannah Nepil, 18 November 2015
Voseček's score burns like acid. This Czech composer delights in chilling effects — a well-timed glissando, a deep tuba growl — spiked with a sarcasm that might make Shostakovich proud. At one point there's even a wry reference to Don Giovanni. It certainly galvanises the members of the Britten Sinfonia, who, under Timothy Redmond, consistently give their all.
The Guardian, George Hall, 18 November 2015
Voseček's chamber work is scored for 15-piece ensemble – here the pristine Britten Sinfonia under the eagle-eyed baton of Timothy Redmond – with a preponderance of clarinets, trombones and percussion giving its soundworld an abrasive edge. Convulsively pacy, the work plays for an intense 90 minutes, driven by a winning combination of menace and brittle musical wit.
The Stage, Edward Bhesania, 18 November 2015
The Britten Sinfonia is deftly directed by Timothy Redmond, with the score's nervous gestures, tolling bell and comical trombones often giving the air of a grotesque cabaret…Entertaining, disturbing and enduringly topical, this could turn out to be a modern operatic classic.
Classical Source, Peter Reed, 18 November 2015
Timothy Redmond and the 15-strong Britten Sinfonia, with their faces streaked with ash, delivered the score with enormous panache.
Planet Hugill, Robert Hugill, 18 November 2015
Under Timothy Redmond's expert guidance, the Britten Sinfonia made a strong contribution…not only with wry comments on proceedings, but with some brilliant realisations of Vosecek's strongly characterised orchestrations, full of noisy interruptions and some highly vibrant writing which made the orchestra much of a character in the proceedings.
● Guildhall School, Silk Street Theatre, Ein Landartz & Phaedra
8-15 June 2015
Boulezian, 15 June 2015
This was a fine performance by any – not just youthful – standards. Henze's love of flickering colours and their transformation – again I thought, whatever he himself might have made of this comparison, of Strauss's Daphne – shone through, as full of dramatic propulsion as harmony and rhythm. Redmond's direction again proved sure, indeed more than that: vital.
Opera Today, Clare Seymour, 12 June 2015
The instrumental playing was again impressive. Henze's instrumental voices are quite soloistic, and the transparency and depth of the woodwind and brass textures was dramatic — they were capable of powerfully creating the mythic earthquake, but also of spinning sinuous threads of sound. Conductor Timothy Redmond paced things well: the urgency of the first act gave way to more mystical meanderings in the second — there's a lot of symbolism and metaphor but not much action in Christian Lehnert's libretto — but Redmond sustained the dramatic moment by foregrounding the textural variety of the score, as groups of instruments formed sub-sets of colour.
Artsdesk, Peter Quantrill, 10 June 2015
Timothy Redmond's conducting was discreetly effective and nurtured some delicate playing from the pit-band. In every respect the production values offered more than might be expected of even specialised, accomplished students.
Classicalsource, Nick Breckenfield, 8 June 2015
All credit to the orchestra – swelled to 25 for Phaedra – under Timothy Redmond's expert direction – and to the Guildhall Opera Department for continuing to produce such innovative and varied programming for its students and audiences.
● Alison Balsom 'Paris' with the Guy Barker Orchestra (Warner Classics)
Release September 2014
Gramophone, Jonathan Freeman-Attwood, Issue 11/2014
Atmospherically recorded (as if in a smoky Montmartre club), with a high proportion of excellent arrangements to match Balsom's measured panache, the key to this project's success lies in how she, Guy Barker and Timothy Redmond have restitched a seam of Parisian music culture and envisaged a world which has taken on a life of its own.
Presto Classical, 8 September 2014
The centrepiece of the disc is a quite extraordinary transcription of  Le baiser de l'enfant Jésus from Messiaen's mighty solo piano cycle Vingt regards sur l'enfant Jésus – Balsom and Barker's (with a helping hand from Timothy Redmond) choice of sonorities here brings out all the luminous, ecstatic power of a work which by Barker's own admission was the most exciting and intimidating raw material on their list!…Definitely one of my discs of the year.
● London Philharmonic Orchestra, Eastbourne
27 April 2014
Latest.co.uk, Andrew Connal, 27 April 2014
Without a baton, as if wafting perfume, Timothy Redmond conducted most elegantly and with great precision.
● Royal Philharmonic Concert Orchestra, Croydon
25 April 2014
Planet Hugill, Robert Hugill, 27 April 2014
Throughout the evening conductor Tim Redmond provided witty introductions to the different items. He and the Royal Philharmonic Concert Orchestra played with poise and character in a wide variety of music.
● English National Opera, Ambika P3, Powder Her Face
2-19 April 2014
Opera Today, Claire Seymour, 8 April 2014
The selected instrumentalists of the orchestra of English National Opera who form the chamber ensemble produce fantastic playing of verve and wit. Conductor Timothy Redmond is an experienced proponent of this score and draws forth both its jazzy sleaziness and lugubrious anxiety.
The Observer, Fiona Maddocks, 6 April 2014
Timothy Redmond conducted with energetic vigilance. Difficult though the space was, it allowed Adès's score, in all its richness from tango to two-step via Berg and Stravinsky, to breathe. The entire work acquired a bloom, superbly played by the 15-strong ensemble. At times it felt hot and crackling, as if about to combust.
Seen and Heard International, Colin Clarke, 6 April 2014
Rivalling the singers for stars of the evening are the instrumentalists of the English National Opera.  Adès's scoring is characteristically individual, his instrumentation including accordion and piano. Contemporary specialist Timothy Redmond draws superb playing from all.
Time Out, Andrzej Lukowski, 4 April 2014
Adès's score is held to be the star of this eerie chamber opera, and its jazzy roilings and ominous, bluesy brass are indeed stunningly unsettling, marshalled to perfection by conductor Timothy Redmond.
The Financial Times, Andrew Clark, 4 April 2014
…what we hear in Adès's brilliant score is its cleverness, its chill heartlessness and its pitiless parodies – all of which come across powerfully in the hands of Redmond and the ENO orchestra.
The Guardian, George Hall, 3 April 2014
English National Opera presents this modern classic in a vast hall in Marylebone, where the audience for Joe Hill-Gibbins' production is arranged on three sides of a central performing space like members of an enormous jury; on the fourth side is placed the instrumental ensemble, plus conductor Timothy Redmond, who steers the music with panache as well as efficiency.
The Daily Telegraph, Rupert Christiansen, 3 April 2014
But it's the orchestra that dominates: ably conducted by Timothy Redmond, it dazzles and stuns.
The Independent, Michael Church, 3 April 2014
We are left with virtuoso performances from four outstanding singers – Clare Eggington, Alexander Sprague, Alan Ewing, and Amanda Roocroft as a commanding Duchess – plus a brilliant ensemble accompaniment under Timothy Redmond's direction.
Evening Standard, Barry Millington, 3 April 2104
It's a witty, resourceful score, however, capably delivered by an ensemble under Timothy Redmond.