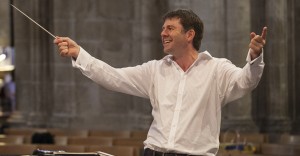 It is hard to imagine the presentation being done better.
London Evening Standard (LSO Stravinsky Festival)
Timothy Redmond has presented and conducted concerts throughout the UK, Europe, South Africa and the United States.
Whether explaining contemporary scores from the podium, introducing young people to the orchestra for the first time, or entertaining upwards of 20,000 people at outdoor concerts he is a popular choice with orchestras and audiences alike.
He has introduced concerts in French, German, Italian, Macedonian and Czech, as well as in English; he has appeared on TV and radio in over a dozen countries and regularly gives pre-performance talks in both the opera house and concert hall.
Timothy Redmond is a man of many parts. Orchestra conductor, yes – but on the evidence of Sunday night's first of the 2011 Hallé Proms he's also no mean Shakespearean declaimer, too.
Manchester Evening News